HELPFUL APP FOR HEROCLIX TOURNAMENTS.
Able to organize my collection and also able to build teams for tournaments. Very helpful app for a novice like myself.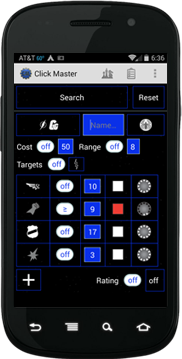 Heroclix Search Engine
Search Engine Features:
Special Powers

Search 1st and/or 2nd click

Search your collection

Sort results

Multiple matches like keywords (e.g. soldier or spy), team abilities, powers, and sets
Find the perfect character for your team by using the extensive search capabilities of Click Master. Interested in thematic teams from your favorite comic book? You can limit the sets you search through, or simply search by a keyword. Want to find the most powerful character in your collection? You can limit the searches to only what is in your collection.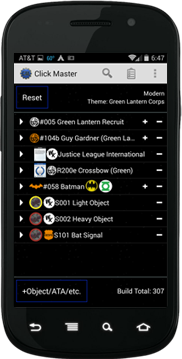 Team Builder
Team Building features:
ATAs listed for your team

Objects, resources and relics

Is your team modern? Keyword thematic?
Once you start creating your team you'll be able to easily add ATAs, resources and more. The app is also a handy way to have all the information about your characters without having find each character's card. When playing you can simply put the app in tournament mode from Settings and the dial information is hidden.
Collection Manager
Collection Manager features:
Track your collection by set

Synchronize your collection between multiple devices

Quickly view the content of any set
Quickly update and manage your collection through Click Master. New in 2.0, back up your collection and synchronize it with other devices running Click Master.
Review
Best clix app ever! 

I build all my teams on this and do everything clix on this app.

Brett Coulson-November 22, 2014
No real competition. 

I've had this app for a while now. The developer constantly updates it in a timely manner and actually communicates back to you. The design is simple enough to use and very useful. if you're serious about heroclix, then you'll find this essential to the game.

David Morales-April 26, 2014
Comment, Request & Bug Report